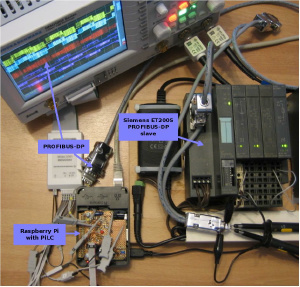 This is a PROFIBUS software stack implementing the layers 1 (PHY), 2 (FDL) and 7 (DP) of the PROFIBUS protocol.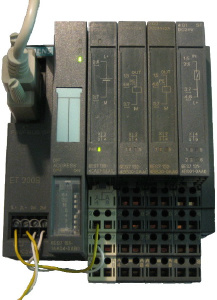 We are currently able to talk to a Siemens ET-200S slave, read its inputs and write to the outputs. So the basic hardware (OSI layer 1) is implemented and works as expected. Software (OSI layer 2 and 7) is work in progress. Most of the implemented features work correctly. A the Raspberry Pi can act as a DP-Master (class 1) with the current stack.
The awlsim Soft-PLC software can be used to control hardware connected to PROFIBUS-DP
See the awlsim and PiLC pages for details.
Latest bleeding edge pyprofibus can be downloaded using the Git version control system as follows:
| | |
| --- | --- |
| via https: | git clone https://git.bues.ch/git/pyprofibus.git |
| or via http: | git clone http://git.bues.ch/git/pyprofibus.git |
| or via git: | git clone git://git.bues.ch/pyprofibus.git |
or by downloading the pyprofibus snapshot archive.
To browse the Git repository online, go to the gitweb interface.
A mirror of the repository is available on Github and on Bitbucket.
If you want to contribute to pyprofibus, please read the contribution guidelines first.
Updated: Friday 29 April 2016 17:31 (UTC)