Wolfsmühle is a German board game.
It is played by two players. One playing the wolf tokens and one playing the sheep tokens.
The goal for the sheep is to escape from the wolves and reach the safe barn.
The goal for the wolves is to eliminate the sheep.
The sheep have to occupy all seven positions in the barn to win.
Alternatively, if both wolves are surrounded by sheep such as that the wolves can't move anymore, then sheep also win.
Sheep can only move vertically upwards towards the barn, or horizontally. Never downwards or diagonally.
Wolves are free to move in any direction.
A wolf can capture a sheep by jumping over it.
If less than seven sheep are left on the board, then wolves win.
A sheep at the very top position in the barn is safe and cannot be captured anymore.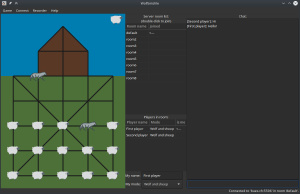 Wolfsmühle can be played with multiple players over the network. Just click the menu item Connect / Connect to server... to connect to a game server.

The Windows standalone package runs without installing anything and without admin privileges. Just double-click the self extracting archive and extract it to whereever you like.
Wolfsmühle is beta quality software.
That means it does not include all anticipated features and probably contains some bugs.
The documentation is not complete.
The software is not fully tested.
You are encouraged to test Wolfsmühle and report all identified bugs or missing features to the author.
Updated: Tuesday 05 April 2022 19:43 (UTC)